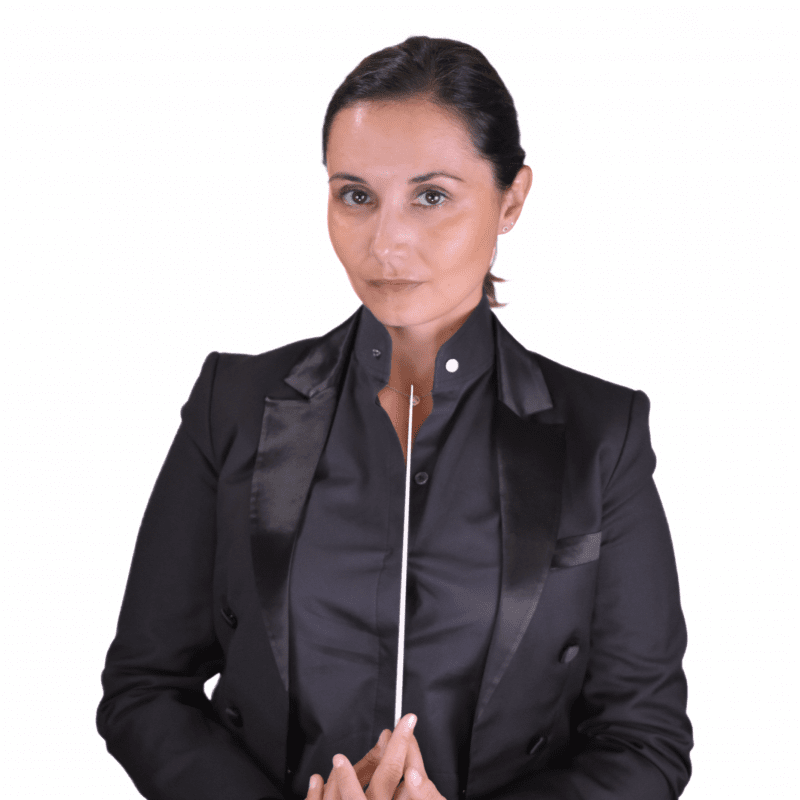 Conductor, Philharmonic Orchestra
Multidimensional conductor Julie Desbordes leads ensembles in the Americas, Asia, and her native France. Pre-COVID guest conducting appearances included performances with orchestras in Hong Kong, Taiwan, Malaysia, Venezuela and Cuba. Since the onset of the pandemic, she has taught orchestral musicians, music educators, and young conductors online and now also in-person, developing innovations that bring meaning and impact to music making and community building.
Ms. Desbordes made her conducting debut at age 17 and is currently Music Director of the Philharmonia Orchestra at Arizona State University, where she also teaches conducting. Previously based in New York and Baltimore, she led two groundbreaking, inclusive orchestras in New York City: the Queer Urban Orchestra and the Turtle Bay Youth Orchestra.
Also a leader in the El Sistema movement, she was a featured cast member in the documentary film, Crescendo! The Power of Music, directed by Jamie Bernstein, and is a frequent guest conductor and teaching artist at El Sistema programs internationally, as well as being a teaching artist mentor for Carnegie Hall's Music Educators Workshops since 2019.
As a conductor and an educator, Ms. Desbordes passionately develops new audiences for concert music as she leads diversity and inclusion efforts. In Arizona, her Philharmonia Orchestra collaborates with dancers, incorporates video content into concerts, presents music by underrepresented composers, and consistently delivers performances that excite seasoned and new audiences alike.
Ms. Desbordes holds Master and Bachelor degrees in conducting and trumpet performance from conservatoires in France and Canada. She will soon complete her Doctor of Musical Arts degree in orchestral conducting at the Peabody Conservatory in Baltimore. Her conducting mentors have included Raffi Armenian, Gustav Meier and Marin Alsop.