Education Concerts
This event is full as of 11/18/2022. Registrations now will be added to a wait list.
Music Memory is a no cost, multi-faceted educational program designed to enhance understanding and appreciation of symphonic music. The program includes curriculum guides and activities that will enhance the students concert experience as well as fit with current educational standards and guidelines. The curriculum is designed for elementary grades 1-4. The concert however, is open to grades 1-6 from all schools in Maricopa County, public, private, and homeschool. This will be the 61st year of the Music Memory Program during which time it has reached hundreds of thousands of students. Since 1987 this program has been made possible with funding provided by the William L. and Ruth T. Pendleton Memorial Fund.
This program is centered around a live performance that will take place at Symphony Hall in downtown Phoenix on April 19, 2022 at 10:30 AM.  Music has been selected for this performance to give the students an exciting and immersive introduction into symphonic music.  A curriculum program and activities centered around the music in the concert will be made available about one month before the performance so teachers and parents can begin teaching their students about the music ahead of time.
Featuring the Symphony Orchestra under the direction of Matthew Kasper, Artistic and General Director of PYSO, Resident Conductor of The Phoenix Symphony and Conductor for Ballet Arizona. Although there is no cost to participate in this program there are a limited number of seats available for the concert so we do require reservations for all groups.
Arizona Morning Fox 10 News at Music Memory on February 4, 2020.
A very special thanks to Ardith Shelley, former Fine Arts Supervisor for the Madison School District, who was instrumental in the development of the Music Memory Program. She served as its chairperson for twenty-one years.
This event is full as of 11/18/2022. Registrations now will be added to a wait list and registrants will be contacted if space becomes available.
This season's Music Memory 2023 will be on February 7, 2023 at 10:30 AM at Gammage Auditorium.
Gammage Auditorium
Arizona State University
1200 S Forest Ave
Tempe, AZ 85281
---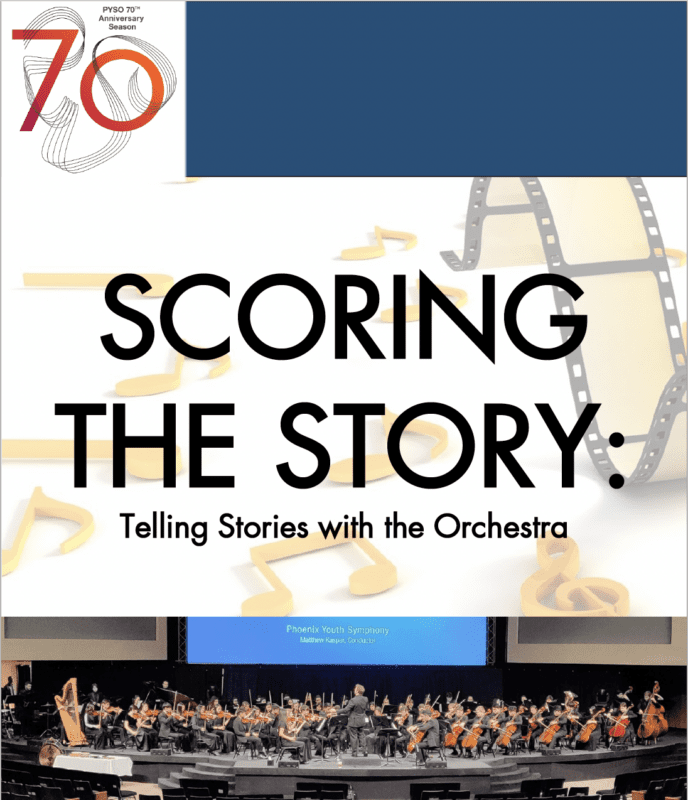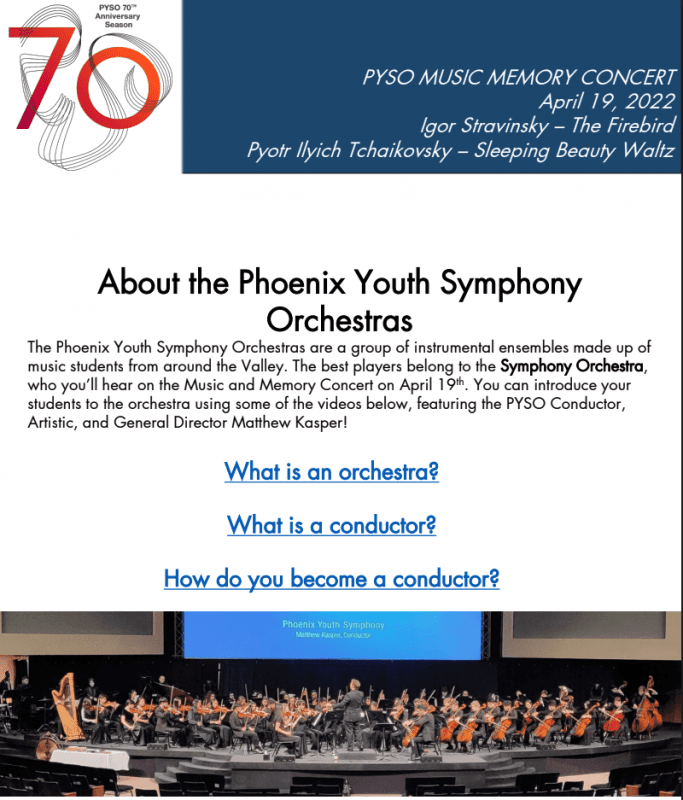 View the Full Music Memory Concert – April 19, 2022
2021 (Last Season) Music Memory Information and Material:
In a first-of-its-kind partnership, The School of Ballet Arizona and Phoenix Youth Symphony Orchestras are partnering together to perform Tchaikovsky's Swan Lake. The performance will be recorded and available for viewing.
In addition, PYSO, in collaboration with The School of Ballet Arizona, has created an online, interactive musical adventure that lets students explore the worlds of music and dance, while learning simultaneously what it takes to be an artist dedicated to their craft.

2020 Program
Romeo and Juliet : Sergei Prokofiev
Lesson 1 Teacher Guide PYS2020MM
Lesson 2 Teacher Guide PYS2020MM
Lesson 3 Teacher Guide PYS2020MM
Lesson 4 Teacher Guide PYS2020MM
2020 Program
Romeo and Juliet : Sergei Prokofiev
Lesson 1 Student Activity AB PYS2020MM
Lesson 2 Student Activity CD PYS2020MM
Lesson 3 Student Activity E PYS2020MM
Lesson 4 Student Activity F PYS2020MM