PYSO's All Ensemble Concert will feature all of our performing groups on Sunday, October 17 at 3:00 PM in the Ikeda Theater in the Mesa Arts Center. The Mesa Arts Center is located at:
1 E Main St, Mesa, AZ 85201
Purchase Tickets
Partial funding for the PYSO 21/22 season is provided by the Phoenix Office of Arts and Culture through appropriations from the Phoenix City Council.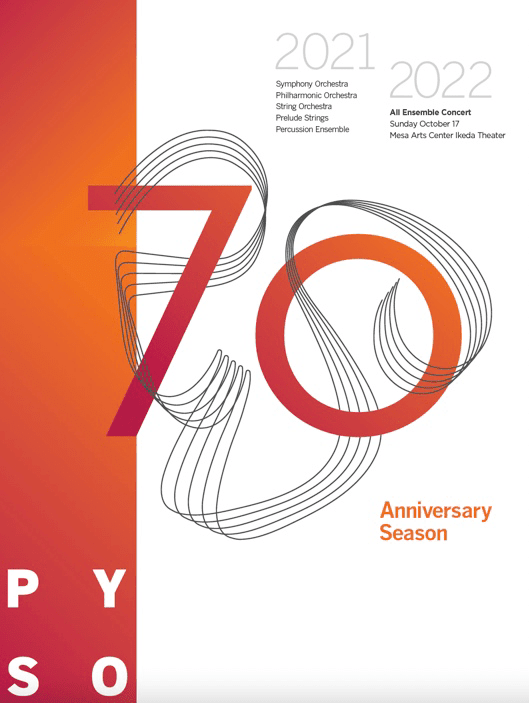 ---
Concert Program Order: 
PERCUSSION ENSEMBLE Todd Betz | CONDUCTOR
Overture for Percussion Ensemble JOHN BECK
PRELUDE STRINGS Brian Maurer | CONDUCTOR
Can-Can from "Orpheus in the Underworld" JACQUES OFFENBACH ARR. RICHARD MEYER
Fiddlin' Around JOHN CAPONEGRO
Nightrider RICHARD MEYER
STRING ORCHESTRA Bethaney Cross | CONDUCTOR
Confluence RENATA BRATT
Air for Buenos Aires CHRIS THOMAS
Symphony No. 8 "Finale" ANTON.N DVOŘ.K ARR. SANDRA DACKOW
PERCUSSION ENSEMBLE Todd Betz | CONDUCTOR
Danse Macabre CAMILLE SAINT-SA.NS ARR. BRIAN SLAWSON
INTERMISSION
PHILHARMONIC ORCHESTRA Dr. Walter Temme | CONDUCTOR
Russian Sailor's Dance from "The Red Poppy" REINHOLD GLIERE ARR. MERLE J. ISAAC
The Forest of Noitan RYAN GUNDERSON / WORLD PREMIERE PERFORMANCE
Carmen Suite No. 2 GEORGES BIZET
Marche des Contrebandiers
Habanera
Chanson du Toréador
La Garde Montante
Danse Bohème
SYMPHONY ORCHESTRA Sunny Xuecong Xia | ASSISTANT CONDUCTOR
Spartacus Suite No. 2 ARAM KHACHATURIAN
I Adagio of Spartacus and Phrygia
II Entrance of the Merchants, Dance of the Roman Courtesan, General Dance
III Entrance of Spartacus, The Quarrel, Treachery of Harmodius
IV Dance of the Pirates
American conductor Matthew Kasper currently serves as Resident Conductor of The Phoenix Symphony and Artistic Director of The Phoenix Youth Symphony Orchestras. Past posts have included Music Director of the Queens Symphony Orchestra, Music Director of the Chicago Composers Orchestra, Associate Conductor of the Queens Symphony Orchestra and he served on the faculty of the Aaron Copland School of Music.
In his fifth season with The Phoenix Symphony, Matthew has proven a wide-range of ability leading Classics, Pops, SFTS, Chamber and other programs during his tenure. This success led to his promotion from Assistant to Resident Conductor in the 2018-19 season. This season Matthew will led over thirty-five performances including multiple Pops and education programs as well as his debut conducting Handel's Messiah. He will also be on stage to lead the return of Troupe Vertigo in Prokofiev's Cinderella, the annual Side-by-Side with The Phoenix Youth Symphony and in the symphony's new Scottsdale Series featuring the music of Mendelssohn and Schumann.
In demand as a guest conductor, Matthew has conducted extensively in the United States, Europe and Asia. Recent seasons included successful debuts with the Rochester Philharmonic, the Tucson Symphony and the Evergreen (Taiwan) Symphonies. Matthew has also appeared with the Orchestre de l'Opéra national de Lorraine, Opera National de Lorraine, Queens Symphony Orchestra, The Phoenix Symphony and the Salt River Ballet. Matthew has served as cover conductor for The Cleveland Orchestra, The San Diego Symphony, The Phoenix Symphony, Arizona Musicfest and the Queens Symphony.
Equally at home in symphonic and operatic repertoire, Matthew made his European debut with the Orchestre Symphonique et Lyrique de Nancy in 2014 and also served as an assistant conductor for the Opera National de Lorraine where he prepared the internationally acclaimed staged premiere of Gerald Barry's The Importance of Being Earnest. He was immediately re-engaged for productions of Bernstein's Candide and Britten's Owen Wingrave. 2013 also marked Matthew's debut with the Queens Symphony Orchestra, which subsequently let to him being named Interim Music Director for the 2015 season.
As Artistic Director of the Phoenix Youth Symphony Orchestras, Matthew has been a driving force to expand the orchestra's season and footprint in the community. He has been instrumental in cultivating relationships with other arts organizations in Phoenix including forming an assistant conductor program with the Arizona State University School of Music, serving as a partner organization for the Arizona Piano Institute and collaborating with the Ballet Arizona school for educations programs and full length ballet performances with The Phoenix Youth Symphony Orchestras.
An avid music educator, Matthew served as an adjunct faculty member of conducting staff at the Aaron Copland School of Music from 2011-2014, where taught conducting classes and conducted the orchestra in performances of symphonic, musical theater and opera performances. With The Phoenix Symphony Matthew conducts the orchestra's educational and family concerts, reaching over 15,000 children annually.
Trained as a violinist, Matthew is a former member of the Chicago Civic Orchestra where he performed under illustrious conductors such as Bernard Haitink and Esa-Pekka Salonen. He holds degrees in violin performance from Queens College and the Chicago College of Performing Arts where his principal teachers were Burton Kaplan and Shmuel Ashkenasi. Matthew holds a Master's degree in Orchestral Conducting from Queens College where he was a student of Maurice Peress. He received additional training at the prestigious Pierre Monteux School for Conductors as a Quimby Family Foundation Fellow where he studied with Michael Jinbo.
Originally from Madison Wisconsin, Matthew currently resides in Phoenix with his wife Rebecca, son Theodore and daughters Fiona and Magnolia.
Bethaney Cross received her Master of Music degree in Music Teaching and Learning from ASU in 2021 and her Bachelor of Arts degree in Viola Performance from Northern Arizona University in 2011. Mrs. Cross currently teaches in the Mesa Public School District at Mountain View High School where she is the Assistant Director of Orchestras and works with the Music Conservatory program. In 2018, she began conducting the String Orchestra with Phoenix Youth Symphony Orchestras. As a PYS alumni, she is excited to be back and working with the young musicians of the organization. In addition to teaching, Mrs. Cross currently serves as the Central Region Chairman through the Arizona Music Educators Association. In 2019, Mrs. Cross guest conducted the Greater Phoenix Union High School Honor Orchestras. During her time in the Scottsdale Unified School District, she served as lead strings specialist for junior high and elementary orchestras.
As a music educator, Mrs. Cross strives to develop a collaborative learning environment amongst her ensembles and build a community of friendship while learning how to deliver a polished performance.
Mrs. Cross is a native of Arizona and currently resides in Mesa with her husband and four children. When she isn't teaching, you will find her and her family out camping and hiking.