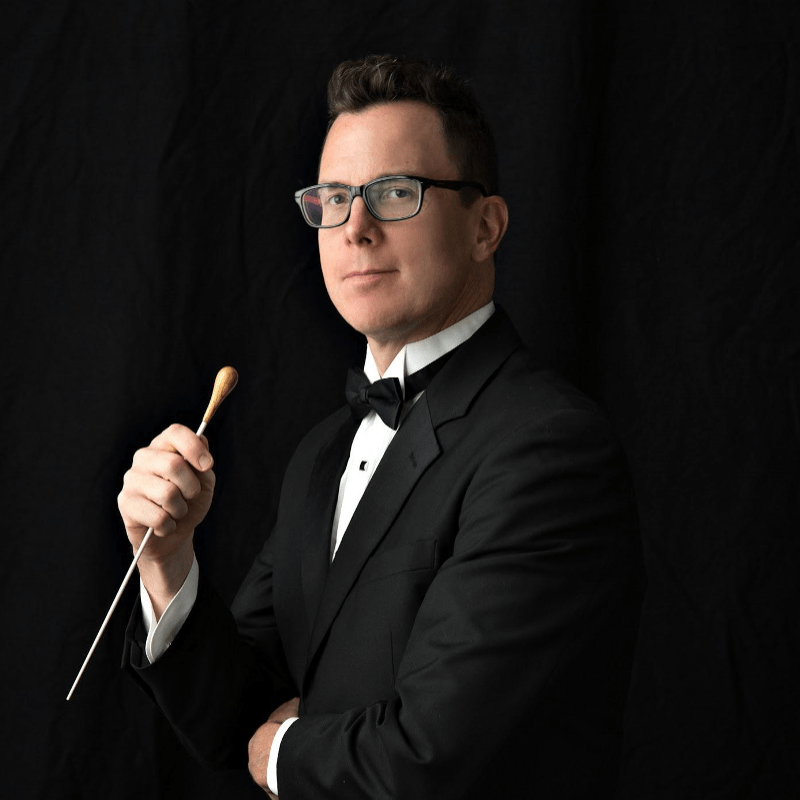 Conductor, Wind Orchestra/Chamber Winds
Aaron Vogel is currently in his nineteenth year of teaching and serves as the Director of Bands at Mountain Ridge High School in Glendale, Arizona and as the Conductor for the Phoenix Youth Symphony Orchestra's Wind Orchestra and Chamber Winds.
Recent honors at Mountain Ridge include the Citation of Excellence Award from the National Band Association, the Saxophone Quartet's invitation to the 2020 Midwest Clinic in Chicago, IL, the Wind Ensemble performance at the 2020 Arizona Music Educators Conference, and their performance as a Featured Band at the 2019 Music for All National Concert Band Festival in Indianapolis, IN. The Mountain Ridge Pride of the West Marching Band has consistently qualified for the ABODA State Marching Band Championships and concluded the 2019 competitive season as the ABODA Division 1 Arizona State Marching Band Champions and the AzMBA State Champions in Class 4A. In 2017-18 and 2018-19 the Mountain Ridge Band Program received the ABODA  "William E. Richardson Program of Distinction Award" recognizing superior achievement in all areas of the program.
Prior to his appointment at Mountain Ridge, Aaron was the Director of Bands at Westwood High School in Mesa, Arizona, and taught in public schools in Colorado and North Carolina. Ensembles under his direction received multiple accolades for excellence in performance including consistent Superior and Superior with Distinction ratings at Area and State Festivals, the National Programs of Excellence Blue Ribbon Award from the National Band Association, and three Colorado State Marching Band Championships in 2013, 2012 and 2009. Featured performances include the Music for All National Concert Band Festival (twice), the Taoyuan, Taiwan International Band Festival, the Colorado Music Educators Conference (twice), and the Western International Band Clinic.
Aaron has been actively involved in the state and national levels of the marching activity and currently serves as a Board Member for the Arizona Marching Band Association. He has also served on the instructional staff for The Cadets, The Cavaliers and the Blue Knights Drum and Bugle Corps. As a performer, he was an original cast member in the Tony and Emmy award-winning production of Blast! in London's West End and a marching member of the Crossmen Drum and Bugle Corps.
Aaron received a Bachelor of Music in Music Education magna cum laude from Ithaca College, and a Masters in Music Education and Wind Conducting from the University of Colorado Boulder, where he studied conducting with Allan McMurray and was a Graduate Teaching Assistant.
Aaron lives in Phoenix with his wife Becky, the Fine Arts Specialist for the Phoenix Union High School District, daughter Abigail (3) and son Aiden (5 months). He is a native of Cherry Hill, New Jersey.